So the Red Bull sponsored motorcross superstar, Robbie Maddison back flipped a gap in Tower bridge London at 2.55 am July 13th 2009,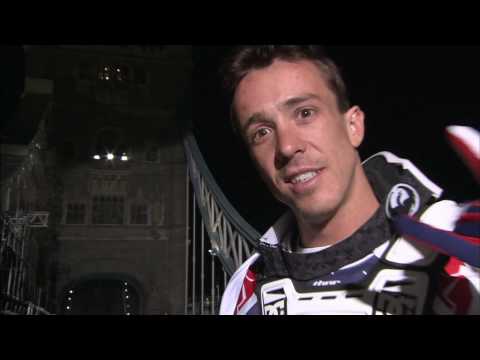 although the stunt was pretty good it was a little disappointing when compared to some of his other stunts.
For New Year' s Eve 2007 Robbie set a new world ramp to ramp motorbike jump record of just over 322ft,
and then for New Year's Eve 2008, Robbie jumps to the top of the Arc de Triomphe at the Paris Las Vegas,
but the best bit was how he got down again.
So hopefully you can see why I was a little disappointed with Robbie's latest stunt, he could have at least jumped the Thames river from Bank to Bank, there must be some points along it that are narrowing enough for it to be within his huge talent to do.
Glad he landed the backflip, that would have been a long way to slide down on his bum.